KARACHI: Pakistan's top cueist, Mohammad Asif, on Thursday qualified for the quarter-final of the International Billiards & Snooker Federation (IBSF) World Snooker Championship being played in Turkish city of Antalya after winning two consecutive games in the knock-out stage.
After triumphing over Israel's Shachar Ruberg in the Round of 32, Asif played two century breaks to outclass Australian James Mifsud 5-1 in the pre-quarter-final round.
Asif looked in top form against the Australian cueist in the Round-of-16 competition and did not give his opponent any opportunity to level up.
He took the initial lead by winning the opening frame 96-50 but faced a strong challenge in second frame where Mifsud did not let him to pot a single ball as the Australian levelled the encounter with a break of 91. That was the only frame where the Pakistani cueist was challenged.
Asif played back to back century breaks in third and fourth frames to win 109-7 and 104-8 to extend his lead to 3-1. He then continued with his form to win the remaining two frames comprehensively as well.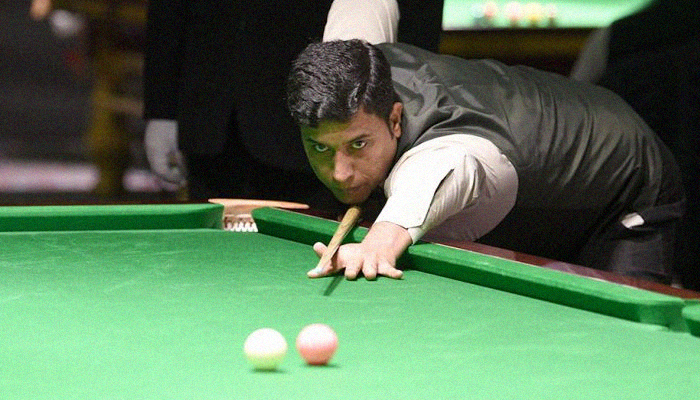 Pakistan's Number 1 cueist won the match with scores of 96-50, 0-91, 109-07, 104-08, 60-43, and 60-35. He played break of 108 in third frame and 103 in fourth frame.

Earlier, Asif had knocked out Ruberg in a Round-of-32 game of IBSF World Snooker Championship. He kept a control on his nerves against the Israeli opponent to come back from a deficit of 2-3 to win the Round-of-32 match with a score of 5-3.
Though he started the match confidently by taking first frame with a score of 65-9, Ruberg played a break of 96 in the second frame to make it 1-1. The Israeli cueist extended his lead 2-1 after taking third frame with score of 75-47.
In the fourth frame, however, Asif looked in complete control and did not allow his opponent to pot even a cherry as he levelled the match 2-2 by taking fourth frame 93-0.
The Israeli cueist got the lead once again in the fifth frame but, in the following three consecutive frames, he was outclassed by Asif as the latter completed a 5-3 win.
While the Pakistani cueist won the sixth and seventh frames with scores of 62-19 and 74-17, by playing breaks of 54 and 74, respectively, in the frames, he had to face a challenge in the eighth frame where things turned in his favour in the final five colours.
Asif won against the Israeli cueist with scores of 65-9, 23-109, 47-75, 93-0, 20-51, 62-19, 74-17, and 66-55.